Our Porsche 914/6
We own a 1974 Porsche 914 that we converted to a "six." Original 914's had a "souped up" VW-bus engine (really!). Porsche did produce a six cylinder model for about one year (1970-71) but did not give it too much oomph so as to compete with the 911. (They used the low-end 911T engine.) A popular conversion is to drop a 911 flat-six engine into the mid-engine bay where it sits very comfortably. Now you have the best of both worlds; as much power as a 911 engine can produce and the great mid-engine handling of the 914! Ours also has five-bolt wheels, classic Fuchs alloys, 911S front brakes, heavier springs, and a welded-in chassis stiffening kit.
Tire width is certainly my limiting handling factor. 205's are about the limit without at least "rolling" the fender arches. Some conversions include fender flares as the factory used in their 914 racing projects but it's not one I want to tackle. (Maybe I should replace the hard BF Goodrich Comp-TA's that are probably close to 12 years old? The car doesn't see a whole lot of miles - in fact I put more on my bicycle almost every year.)
Used 914-4's can be had for $3,000-$8,000 depending on condition. 914's are at their best in an autocross though these new Boxsters (and 911's) seem to have the edge. Well, technology does improve in 35 years.

Click here for some Porsche links...
Here's a picture of the beast...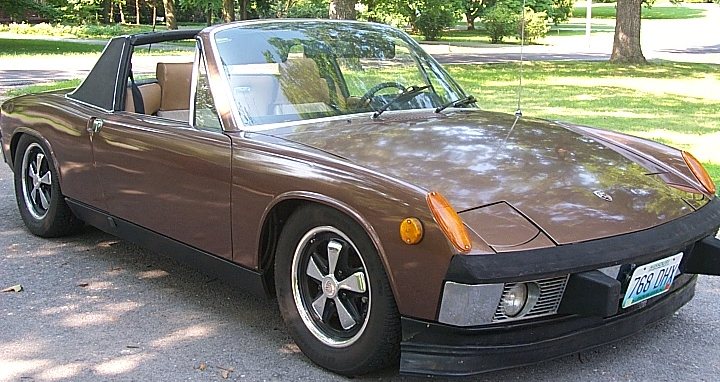 and the "business" end...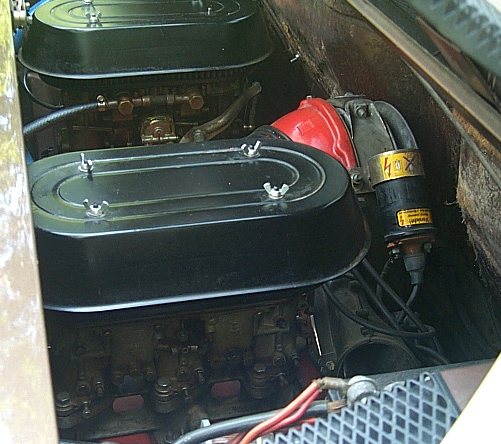 The power is from a 1978 euro 911SC 3.0 liter engine with 46IDA Weber carbs, a WebCam 20/21 camshaft, headers (and no heat exchangers - yes that means no heat, but it's a Summer car). About 2300 pounds and an estimated 225 HP make for exciting driving, and the "twistier" the road the better! We've got some great ones in the Ozarks. Dave is a past president of the Ozark Lakes Region of the Porsche Club of America and used to maintain the regions web site. Click here to go there.
Dave enjoys autocrossing too. Here he is discussing the proper racing line with five time 24 hours of Le Mans winner Derek Bell at the 1993 Porsche Parade in Cincinnati.
Maybe the difference of opinion says something about Dave's autocrossing skills?